About Us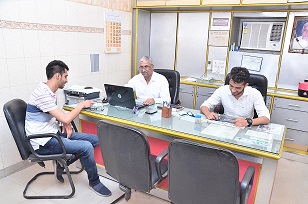 We are leading manufacturer of PP, LD and Super LD Plastic (Poly) Bags since 1990 at Yamuna Nagar. In the Year 1990 we started this unit from a single LD machine and by times we have become the largest manufacturer of Yamuna Nagar for the supply of Poly Bags being used for packaging of industrial products especially for utensils, pharmaceuticals, consumers goods, doors, mattresses and handlooms. We can manufacture a wide range of sizes in all categories like PP, LDPE and Super LDPE.By the times we have and have been upgrading our technology for manufacturing of Poly Bags at our unit. We are always keen to adopt the latest theories and machines of the latest technology. It is a well-known fact that you will have to pace with time to achieve goals of success.
We manufacture plain poly bags as well as also provide Flexographic and Rotogravure Printing on Poly Bags. We always believe in quality. We have a dedicated team to handle production and quality. We never compromise with substandard raw material and use only virgin and branded materials to manufacture our products. We try our best to maintain quality consistency and give special care to the requirements of the customers. We follow 100% guidelines of the customers to feed their packaging needs. The customers willing to have quality products find that ours' is an ultimate destination for them. For many reasons ours' is the unit which is known for quality products. We have been having a long list of customers satisfied fully with our products and we feel proud in meeting the requirements of our customers.
We realize our customer's requirements and have made it easier for our customers to do business with us, no matter what is their requirement. We deliver some of the best services in the industry and as one of the most promising and progressive manufacturers and suppliers of premium quality poly bags. We are committed to the production of high-quality products that allows us to offer miscellaneous customized products with the advantage of lowest prices and the best quality.
We also deal in Plastic Raw materials like PP TQ, PP IM, LLDPE and LDPE (GP grade). These grades are always readily available with us at reasonable and competitive rates.